Leveraging the Benefits of Gamification With ScoreNotch
Customer engagement is one of the most pressing issues for businesses today.
Why?
Because customer engagement is crucial to increase conversions and convert prospects into paying customers.
However, building a loyal customer base doesn't happen overnight.
In order to ensure your customers always choose you over your competition, it's imperative to engage and connect with them in a meaningful and effective way.
Thus, almost every brand is using online communities today to their advantage.
With in-person meetings coming to a standstill due to the impact of COVID-19, online communities have become the center of daily life. Not only do they connect people but also connect brands to customers.
But Why Would Your Customers Want to Actively Participate in Your Online Community?
Besides occasionally looking for answers to their questions, they don't often have a reason to return and contribute to your community.
This is where gamification comes into the picture!
Gamification, the process of incorporating game-playing elements, isn't new.
However, its ability to make the most mundane tasks motivating while engaging users with new challenges, missions, or rewards is what is making it popular across various industries.
In fact, 72% of people say gamification motivates them to do tasks and work harder on the job.
Think about how social media channels you use daily are constantly implementing gamification to their non-game context to keep you excited, and engaged.
A good example is Reddit, that keeps you hooked with their coins and awards system.
LinkedIn also constantly adds more and more gamification elements to boost engagement. For instance, to get you to fill your profile completely, the professional networking site uses a simple but effective tool: the progress bar. The progress bar fills up when you add new information to your profile. After successfully entering all relevant data, you receive a badge.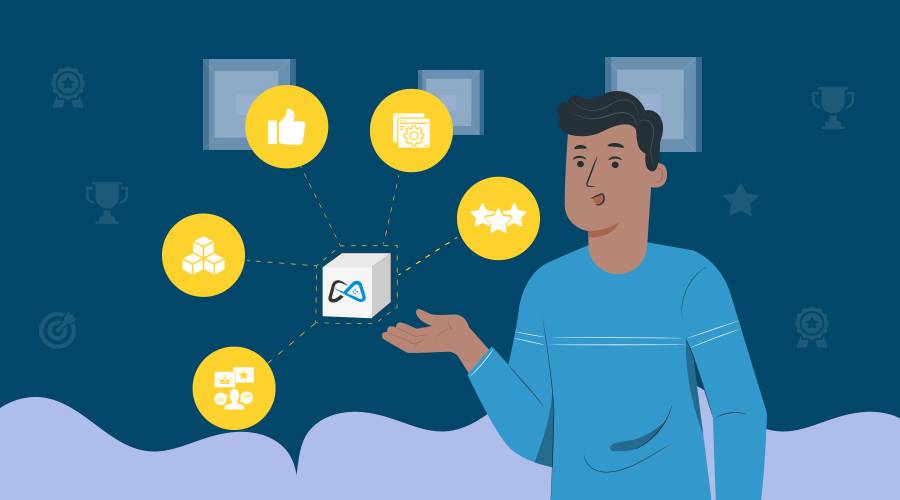 Applying Gamification Elements to Your Salesforce's Community
So, are you using all the tools and features your community platform has to offer but still struggle to build a loyal and engaged user base?
While Salesforce Experience Cloud provides you with basic gamification features, community managers generally look for more!
If you're interested in incorporating gamification into your Salesforce-powered community, you don't have to reinvent the wheel.
Grazitti's ScoreNotch is a robust and native gamification product that helps businesses implement gamification in their online communities.
ScoreNotch comes packed with features like missions, badges, reputation levels that help you make gamification more dynamic and engaging in an online community.
With these inbuilt features, Salesforce native and lightning-ready product provides great benefits –
Customizable to Successfully Administer User Behavior

ScoreNotch enables you to customize point-earning criteria by acquiring insights into user behavior. You can also define different gamification elements according to your brand tone and guidelines to deliver an excellent customer experience.

User-Friendly and Easy to Set Up

ScoreNotch has a user-friendly interface that makes it easy to set up. It comes with pre-defined elements and components that make gamification a lot easier for community managers. However, it also provides flexibility to design your own badges, set criteria for point-earning, define different reputation levels, and so much more.

Salesforce Native App for Easy Implementation

As a Salesforce native app, migrating from Salesforce gamification to ScoreNotch is easy and hassle-free. You can migrate gamification elements such as reputation points, levels, badges, and more, from Salesforce to ScoreNotch without writing a single line of code!

Gamify All Salesforce Objects

ScoreNotch enables gamification of all fields on Salesforce Objects (Standard or Custom). You can reward users for discussions, post creating/updating records on any Salesforce Object per the pre-defined criteria.

Metrics Gathering to Easily Track Success

By implementing gamification techniques using ScoreNotch, you can track and measure user activities, engagement, and other performance metrics that drive the business forward. This helps you deliver better customer service so you reach your goals more efficiently.
Wrapping Up
Gamification is an excellent technique to increase user engagement by turning mundane tasks into a fun experience.
ScoreNotch is a Salesforce-native and Lighting-ready solution that helps you boost community engagement and ROI.
Want to Gamify Your Salesforce-powered Online Community? Talk to Us!