Gamify Your Salesforce-Powered Community for Better User Engagement
It is pivotal that your customers feel connected to your brand. 
And while you build online communities to get users talking and engaging with your brand, it is imperative to implement gamification elements in your community. 
Why? 
Because gamification is a successful tool in creating participation and engagement within the online community. And adding interactive gamifying elements to your Salesforce-powered community will increase customer motivation.
Did you know that Microsoft, after implementing gamification, had noticed 3.5 times more engaged employees who used updated product information for selling[i]? 
Needless to say, the implementation of gamification elements in your Salesforce-powered community can lead to endless possibilities.
In this blog post, we'll look at the importance of adding gamification elements to your Salesforce-powered community, the elements you need to enhance gamification, and how a custom solution makes gamification in online communities a breeze. 
Benefits of Additional Gamification Elements in Salesforce-Powered Communities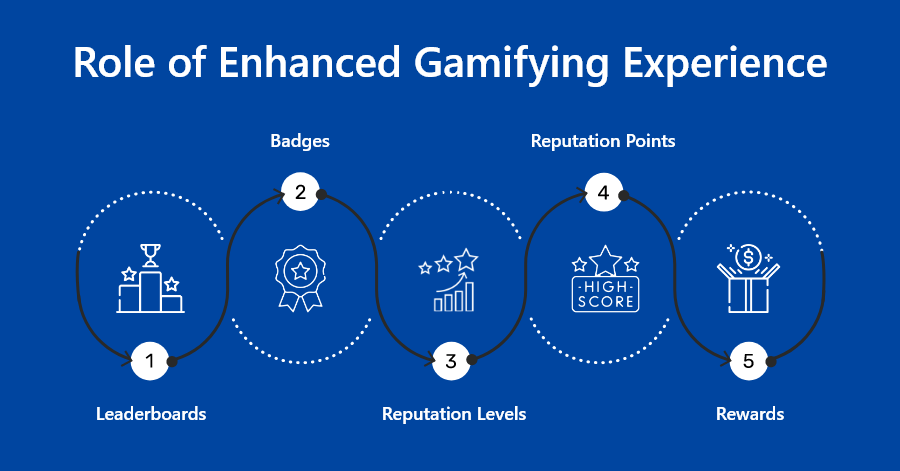 Salesforce Experience Cloud allows you to build online communities for better user engagement. And adding gamification elements to your Salesforce-powered community only enhances the engagement value. 
Gamification enhances user engagement by rewarding users with incentives for participating. Doing this will allow your visitors to spend more time in the community and participate.
Following are some of the essential elements that can help you gamify online community experiences and the benefits they offer:
Leaderboards


Allow users to evaluate their position and view their rewards, points, badges, and more with interactive leaderboards customized according to your community theme.
Badges


Acknowledge efforts made by users by awarding them with badges for community contribution and track their progress.
Reputation Levels


Users advance through reputation levels by sharing posts, answering questions, and exchanging knowledge within the community.
Reputation Points


Decide the reputation level of a community member with reputation points. Reward active members with reputation points based on their contribution to the community.
Rewards


Rewards can be in the form of anything. You may offer gift cards or Salesforce certification vouchers to your users that can be redeemed online.
Besides the standard gamification, Salesforce enables you to add multiple gamification elements to take your gamification score up a notch. However, there are some challenges that you may come across.  
So, for a flawless gamified experience, you need a solution that lets you:
Gamify Both Standard and Custom Salesforce Objects 
Customize the Look and Feel of Leaderboards
Create Multiple Reputation Levels According to Your Needs
Gamifying Online Community Experiences With ScoreNotch
ScoreNotch is a Salesforce-native and Lightning-ready product that enhances dynamic gamification and customer engagement in Salesforce-powered communities. 
ScoreNotch takes gamification up by a certain level which results in boosting your community engagement and ROI. Being compliant with the standard and custom Salesforce Objects, there are a variety of actions that you can take. 
One of the prominent features of ScoreNotch is its drag-and-drop functionality. It makes the customization quite user-friendly and effective. Moreover, ScoreNotch acts as an ally when you wish to make user experiences more fun. 
Features of ScoreNotch
ScoreNotch comes packed with exclusive features that will enable you to take gamification to the next level:  
Easily Configurable 
Swift Migration from Salesforce to ScoreNotch
Lightning-Ready
Compliant with Standard and Custom Objects
Also, the community members would be able to track weekly and monthly scores to determine active community members that can be turned into brand advocates. 
Conclusion
Over time businesses have understood the importance of gamification in online communities. ScoreNotch can help you make the gamifying experience more fun, which will eventually lead to higher customer loyalty, greater engagement, and increased interest in the company's offerings.
Want to Gamify the User Experience on Your Salesforce-Powered Community? Download the eBook! 
Statistics References:
[i] Centrical